Shanley Pump and Equipment carries a full line of Allweiler® Replacement Centrifugal Pump Impellers in stock ready to ship to your location. Although we recommend that you use OEM performance parts to retain the full curve characteristics of your centrifugal pump, in some cases a suitable aftermarket impeller can offer performance for a fraction of the price.
We can supply replacement Allweiler® centrifugal pump impellers in a variety of materials from cast iron to stainless steel and Bronze to exotic man-made materials for difficult pumping applications such as corrosion resistance or thermal fluids.
We supply Allweiler® Pump Impellers for pumps from stock for immediate delivery.
Contact Shanley Pump and Equipment, Inc. today at 847.439.9200 or simply fill out your pump information in our contact form. A representative will contact you shortly.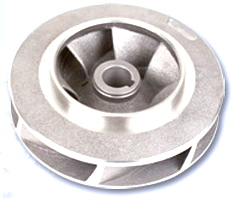 Allweiler® Pump Impeller List
Screw Pumps (two and three rotor models)
Centrifugal Pumps
Progressing Cavity Pumps
Peristaltic Pumps
Allweiler® - Pump Impellers
Allweiler® Steel Pump Impellers
Allweiler® Bronze Pump Impellers
Allweiler® Stainless Steel Pump Impellers
Allweiler® Progressive Cavity Pump Rotors
Allweiler® Centrifugal Pump Impellers
Allweiler® Wastewater Pump Impellers
Allweiler® Thermal Fluid NTT Series Pump Impellers
OEM Allweiler® Pump Impellers
Aftermarket Allweiler® Pump Impellers
*Cookies must be enabbled to submit this form