Shanley Pump and Equipment carries a full line of replacement OEM and Aftermarket Replacement Allweiler® Pump Shafts for in various materials for your Centrifugal and Progressive Cavity Pump ready to ship to your location the same day you order.
We carry Allweiler® pump shafts and more in our Chicago, Il. facility.
We recommend that you use manufacturer recommended pump shafts for your Allweiler® Progressive Cavity Pump and Centrifugal Pumps installation so when operating at standard speeds you receives the optimal performance of your pump. In some cases suitable aftermarket or alternate material pump shafts can offer the same performance for a fraction of the price.
We can supply your replacement centrifugal and progressing cavity pump shafts for your Allweiler® Progressive Cavity and Centrifugal Pumps in a variety of materials such as steel and stainless steel listed below depending upon your pumping application.
EN 8 Pump Shaft
EN 19 Pump Shaft
SS 316 Pump Shaft
SS 410
Steel Pump Shafts
Stainless Steel Pump Shafts
Tool Steel Pump Shafts
Hardened Steel Pump Shafts
Alloy Steel Pump Shafts
OEM Replacement Pump Shafts
If you are unfamiliar with your specific shaft type, give Shanley Pump a call and one of our sales engineers will be glad to assist you in the selection of the optimal replacement OEM or aftermarket pump shafts for performance in your centrifugal pump.
Contact Shanley Pump and Equipment, Inc. today at 847.439.9200 or simply fill out your pump information in our contact form. A representative will contact you shortly.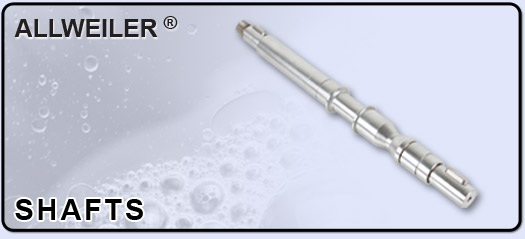 Allweiler® Pump Shaft List
Replacement Allweiler® Centrifugal Pump Shafts
Replacement Allweiler® NTT Series Pump Shafts
Allweiler® Pump Shafts
Regular Centrifugal Pump Shafts
Thermal Fluid Centrifugal Pump Shafts
Regular Pinned Threaded Centrifugal Pump Shaft
Single-Stage Centrifugal Pump Shafts
Multi-Stage Centrifugal Pump Shafts
Regular Centrifugal Pump Shafts
Chemical Resistant Pump Shafts
Temperature Resistant Pump Shafts
*Cookies must be enabbled to submit this form