The EDUR CBF Compact Stainless Steel Centrifugal Vortex Pump is an all-purpose single stage standard centrifugal pump for clear or slightly polluted liquid mediums with entrained solids or suspensions with a wide range of industrial applications. The EDUR CBF Pumps design allows it to fit easily into the standard footprint of a more traditional centrifugal pump.
The CBF is supplied with Stainless Steel as a standard. This has its advantages for performance that traditional steel or cast iron cannot offer. The CBF Series can be utilized in heavy industrial applications such as the wastewater industry, washing plants and manufacturing process facilities. The CBF Series has an 80mm opening and exit that allows for large particulate to be pumped via the vortex-action of the specially designed recessed impeller which uses the pumped medium itself to move the product.
More traditional uses of a stainless steel centrifugal pump such as cooling and refrigeration, shipbuilding, energy production, filtration, and apparatus engineering are easily handled by the EDUR CBF's design. The CBF's design has lower chances for cavitation than other traditional centrifugal pumps.
The CBF series is also available with a standard closed impeller design with single or double acting mechanical seals for durability and long-lasting performance.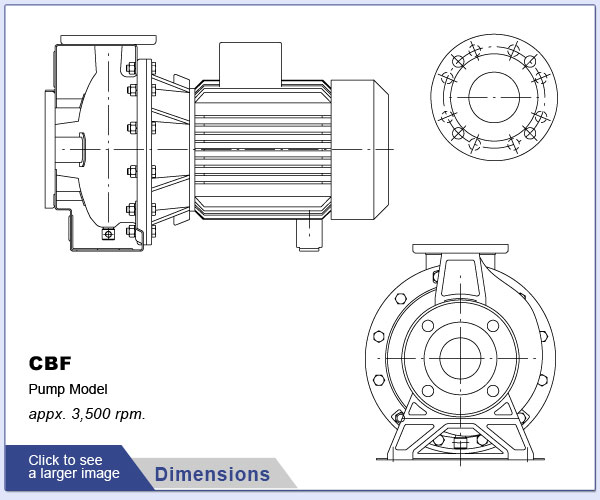 The EDUR CBF Series operates at differential pressures up to 145 PSI at a temperature range of -4°F to +230°F with a Viscosity of 60mm2/s with a series maximum flow rate of 264 GPM.
The EDUR CBF Series is made of Stainless Steel for superior strength characteristics and is available for immediate delivery from Shanley Pump and Equipment, Inc. If you have any questions about the EDUR CB Series Stainless Steel Centrifugal Process Pump please feel free to contact Shanley Pump and Equipment, Inc. today for a quote or application information.
EDUR Pump Series quick links
EDUR CBF Compact Vortex Type Centrifugal Pumps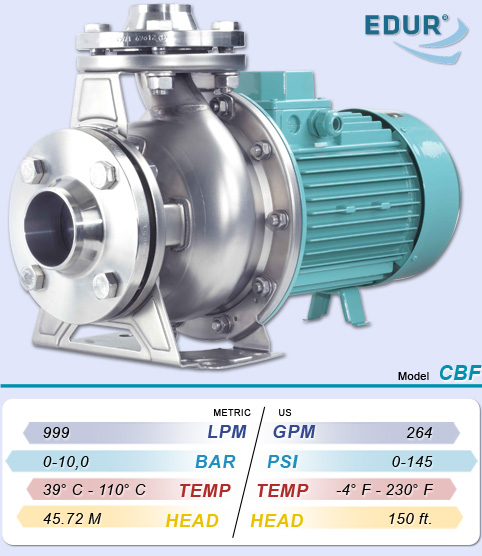 EDUR CBF Series Pump Type
Centrifugal Pump
Single-Stage Pump
Clockwise Impeller Rotation
EDUR CBF Series Materials
316 Stainless Steel
Steel
EDUR CBF Series Industries
Slightly Polluted Liquids Pumping
Wastewater Process Pumping
Plant Engineering Pumping
Steel Industry Pumping
EDUR CBF Series Applications
Solids Content Pumping
Steel Manufacturing Applications
Industrial Waste-Streaming Pumping Applications
Brackish Water Pumping Applications
Wastewater process Pumping Applications

Learn about our Iconology here.