Many DAF systems have been in use in industry for decades now with great service to the industries that utilize them. As time has passed there have been new advancements in DAF Pumps and DAF systems technology that can make your existing system run with an even greater efficiency than when they were originally purchased!
In conventionally produced DAF systems, the system relied on compressed air tanks, venturi's, tension relief valves and and precise control operation to achieve optimal dissolved air conditions which in most operations had difficulty reaching 9% air entrainment with a total of 80% air-saturation.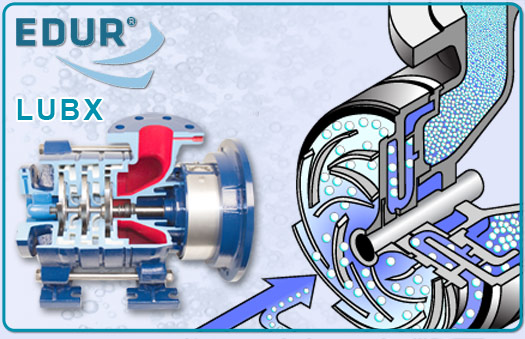 With EDUR DAF Pumps, you no longer need all the extra equipment to get an even better result for mixing, up to 12% entrained air mixing with liquids for a total of over 93% saturation and this is without the compressed air source, just the EDUR pump! EDUR Pumps have been shown to create DAF micro bubbles of 25 microns in their operation, allowing for excellent reduction in use of polymer and greater effectiveness in attachment to the smallest pieces of effluent for removal.
Standard pumps are not able to meet these requirements. The hydraulic parts of EDUR pumps have been specially designed to cope with problems which arise when pumping effluent/air mixtures. The distinctive feature of the EDUR pump is the impeller, open on both sides, and the innovative hydraulic design of the impeller blades which allows for optimal mixing capability.
If you have any questions about our services, please feel free to call us or send us an email! We look forward to hearing from you.
Save Energy and Improve your Existing DAF System
The benefits of adding an EDUR pump to your existing DAF system are also a substantial increase in energy savings. EDUR Pumps over conventional systems in many cases have shown to be nearly TWICE (2x) as efficient in service with reduced operational costs in electricity and maintenance.
Shanley Pump and Equipment carries a full line of EDUR parts and pumps for immediate shipment to your location so downtime is not an issue. We can ship your DAF pumps or DAF pump parts to you the same day you order!
EDUR Offers several styles and types of pumps for your DAF applications in both Centrifugal Pump types such as the LBU Series and Peripheral Pump types such as the PBU Series. Consult your salesperson for the optimal selection for your pump type.
Contact Shanley today for more information about retrofitting and installation of an EDUR DAF Pump on your existing DAF system.