The EDUR FUB Compact Centrifugal Vortex Pumps utilize a revolutionary design that relies on the impeller creating a vortex similar to a tornado with the pumped medium that creates the pump suction.
The recessed impeller of the FUB series allows for pumping of liquids with solids content, slurries, metal chips, abrasive oils and lyes, lime milk, plant wash down sumps, coal slurry and more. If the solids content will fit into the 3" (80mm) inlet of the pump, the unique recedssed impeller design will allow it to be pumped easily through the discharge connection.
The FUB Series unique operation properties are the result of a carefully designed recessed impeller that is located deep in the pump casing out of the flow path and is available with single or double mechanical seals depending upon your pumping medium and applications.
The Impellers design allows for liquids with solids content up to 15% to be easily pumped while its placement keeps it out of the way of the solids being pumped greatly improving impeller life. EDUR Vortex Pumps are an ideal pumping solution for wastewater, thickened sludge, sludge and grit handling and RAS/WAS systems.
The EDUR FUB Series of Compact Centrifugal Vortex Pumps Series operates at differential pressures up to 145 PSI at a fluid temperature range of -40°F to +284°F with a viscosity of 60 centistokes with a flow maximum of 1,761 GPM.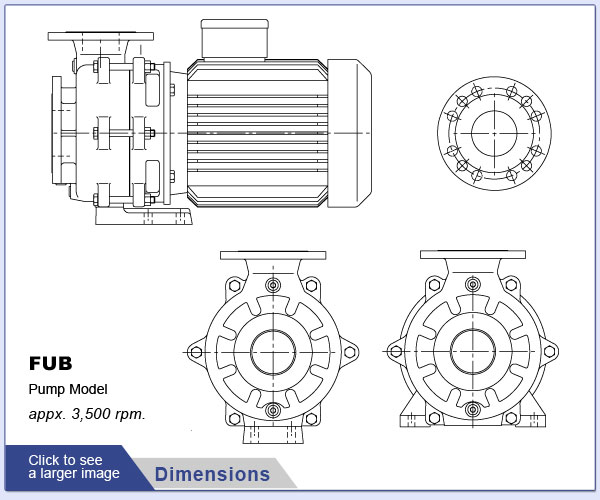 The FUB Series compact vortex pumps standard back pullout design allows for easy maintenance while its compact design allows for easy mounting in any position in stable pipe-lines or a cantilevered mounting setup. Specialized, custom designs of the FUB series as a flange pump or immersible version are also available as well.
The FUB Series is available in a variety of designs with componenets in Cast Iron, Bronze or Stainless Steel depending upon your application needs.
If you are unsure which EDUR FUB Series Compact Centrifugal Vortex Pump is the right selection for you, please ask your Shanley representative for more information to help you make the best selection.
EDUR Pump Series quick links
EDUR FUB Series Compact Centrifugal Vortex Pump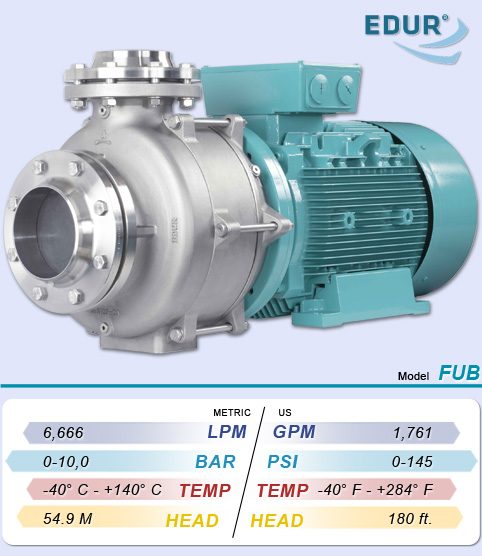 EDUR FUB Series Pump Type
Centrifugal Vortex Pump
Mechanical Pump Seal
Clockwise Impeller Rotation
Horizontal Pump Mounting
EDUR FUB Series Materials
316 Stainless Steel
Cast Iron
Bronze Components Available
EDUR FUB Series Industries
Plant Engineering Pumping
Food Processing Pumping
Process Technology Pumping
Beverage Industry Pumping
EDUR FUB Series Applications
Solids Content Pumping Applications
Abrasive Medium Pumping Applications
Dairy Processing Applications
Slightly Polluted Liquids Pumping Applications

Learn about our Iconology here.