EDUR pumps are designed especially for use in applications where liquids and gases are present and mixed. This pumping application is very challenging if not impossible with standard centrifugal pumps and they would fail due to cavitation destroying the pumps. Shanley Pump and Equipment, Inc. stocks a complete line of EDUR Specialty centrifugal pumps.
The EDUR pump is specifically designed with a unique pump impeller and casing designs that enable it to pump liquid/gas mixtures without cavitation. We keep pumps in our inventory complete with standard TEFC motors, completely tested and ready to ship. We stock EDUR pumps in sizes from 10 gpm up to 220 gpm. Pump materials available are cast iron, 316 stainless steel and super duplex stainless steel.
EDUR Pump Series quick links
---
Dissolved Air Flotation is the most common application where the EDUR pump is used to provide dissolved air to a flotation tank to float and remove solids. The EDUR pump is very innovative in this application. The previous design standard for DAF Systems was to use a standard pump and inject the required air using an air compressor feeding a saturation tank via an air control panel. The tank was fed with water from a standard centrifugal pump.
Edur has several styles of DAF pumps to Select from with different flow rates and types, such as centrifugal and peripheral pump types. For more information about DAF pumping systems please click here.
With the EDUR pump, no compressed air or saturation tank is needed in the operating system. In addition an overall power savings of 40% is achieved due to not requiring a compressor allowing greater energy efficiency than other DAF Pump Manufacturers. EDUR pumps can fully retrofit your existing DAF system.
EDUR introduced this innovation to the North American market in 1996 and the results have been astounding. There are now thousands of EDUR pumps in this application all over North America.
The pump is also used in a variety of industries like Municipal and industrial wastewater applications, Dairies, Rendering plants, Slaughter houses, Mining Operations and are now used extensively in the petroleum industry.
EDUR is a family owned pump manufacturer located in Kiel, Germany. The EDUR brand name has been known worldwide for building a variety of specific pumps for specialized applications since its inception in 1927.
EDUR centrifugal pumps differ considerably from other Centrifugal Pump Designs with their engineering to handle entrained gases in liquids without causing cavitation.
These pumps include:
High Pressure water supply
Self-Priming pumps
Liquid Ring vacuum pumps
Peripheral DAF Pumps
EDUR Parts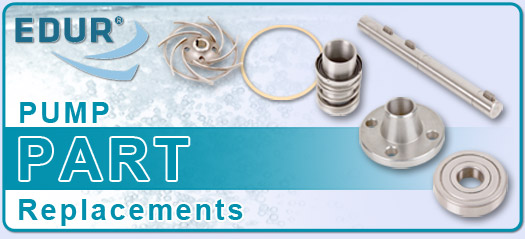 We stock an entire inventory of replacement parts and upgrades for the EDUR line of pumps and pump products. From seals and impellers to entirely rebuilt systems.
If you are looking to repair your current EDUR system or even rebuild your current one, contact us today and ask for one of our factory trained engineers at 847-439-9200.We use genuine EDUR OEM parts for all repairs.
EDUR Nationwide Distribution network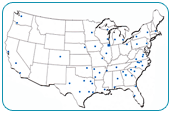 We have distributors and factory trained representatives throughout the continental USA. Sales representatives are only a phone call away! Contact us today at 847-439-9200 or email us.
We look forward to serving you!