EDUR's quality and performance starts with their manufacturing process, which is based on ISO9001 and begins at the engineering and design phase with up to date computer 3-D CAD manufacturing and solid model testing of each design.
EDUR manufacturing processes then incorporate CNC controlled machines to produce pump parts with tolerances measured in thousandths of an inch for optimal performance. All castings are made in the lost-wax casting process for precision, resulting in a superior fit.
After the casting process, the parts are put through an DIN EN 9906 quality control process and checked for the slightest imperfection. Each pump is then assembled by fully trained EDUR engineers.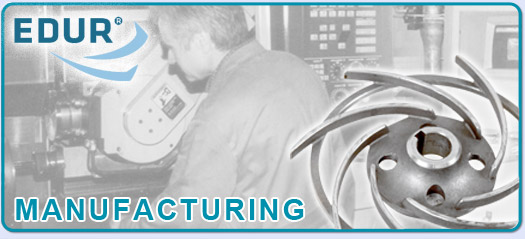 After assembly, each pump begins a rigorous computer controlled final performance and inspection testing to exceed ISO standards. No pump manufactured by EDUR leaves their facility without these tests being performed. Testing parameters include a pressure and flow test in which the pump is compared to the established performance curves optimal performance.
Additional tests can also be performed by EDUR. Tests for running noise or vibrations of the pump and hydrostatic pressure testing are available upon request prior to shipment. Please contact your salesperson for details.
Manufacturing & Testing of EDUR Pumps
Additional test points for measured head, rate of flow, power consumption and efficiency are performed and noted. The end results will let EDUR know if the pump has been passed or need to go back and have adjustments made. These tests are performed on each pump EDUR manufactures for sale and the end result is a superior pump every time.
A body of similar pump manufacturers simply take pump parts and assemble them into a finished pump for immediate sale with no performance testing. The end result are pumps that will not always perform optimally or will so for only a limited time before imperfections of manufacturing or assembly begin to show and lower the overall performance of the pump in question.
When you purchase an EDUR pump, you are purchasing a high-quality pump that will give years of dedicated service at its job, every time. There are never quality issues resulting in additional costs or downtime to the pump user.
Competitors to EDUR will say that their products "Do what EDUR does", but this is hardly a qualified statement. Before purchasing another pump, ask yourself these questions:
Are their pumps as rigorously tested for optimal performance before shipment?
Are their pumps as optimally engineered?
Do their quality controls exceed ISO9001 standards?
Is the overall cost of operating a non-EDUR pump factored in the inevitable costs for replacements and servicing for cheaply imported pumps or parts that went into their manufacturing?
Are the Spare parts for the pump readily available?
Does the sales and engineering knowledge of the pump supplier allow you to fine-tune your system, or simply purchase a pump?
These are all questions you need to ask yourself before purchasing. And when you are done, feel free to give us a call to offer a superior EDUR Centrifugal Pump.
If you have any questions about our services, please feel free to call us or send us an email! We look forward to hearing from you.