The EDUR S Self-Priming Centrifugal Pump is designed to reprime itself by using its unique design to trap a water/gas mixture inside the pump casing under normal operation. When the pump stops, the gas separated inside the pump housing does not leave a vacuum formed in the pump during its last operational cycle.
Due to the installed elbow at pump suction side, the liquid is kept inside the pump so that in case of re-start the pump is in a position to evacuate the suction-side pipes. As soon as the evacuation of the suction-side pipes has been made the pump continues to pump the liquid in effect "self-priming" itself for the next startup.
The S Series is an energy efficient centrifugal pump with optimised head per stage and a low velocity of flow. The design characteristics of the S Series allow for a Gas-Liquid mixture to be safely pumped without cavitation. This is achieved by the S Series by having a unique design that allows for either open or closed impellers in a uniquely designed casing.
The Modularity of the EDUR S Series Self-priming Centrifugal Pump allows for a multitude of possible setups and layouts for optimal pumping performance. This allows for the pump be able to give flat or steep characteristic curves and wide performance operating conditions.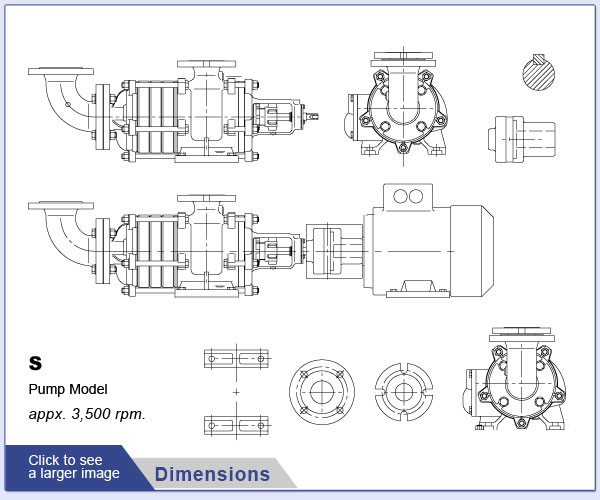 The EDUR S Series Selfpriming Centrifugal Pump is an ideal solution for clean or slightly polluted liquids. Water Supply, Booster Systems, Irrigation and De watering are all jobs that the S Series can perform optimally.
The Pump Series operates at temperatures between -40°F and +230°F differential pressures up to 232 PSI with a viscosity up to 115 centistokes with a maximum flow rate of 1,320 GPM. The pump is manufactured in Cast Iron for strength and durability.
Contact a Shanley Pump and Equipment, Inc. representative today for more information about the EDUR S Series of Selfpriming Centrifugal Pumps at 847-439-9200.
EDUR Pump Series quick links
EDUR S Selfpriming Centrifugal Water Pumps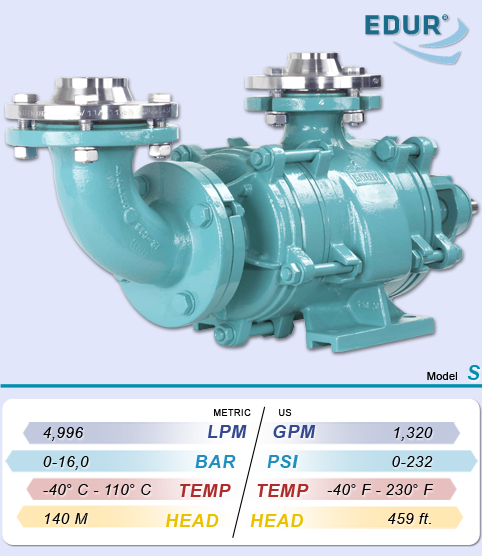 EDUR S Series Pump Type
Centrifugal Self-Priming Pump
Mechanical Pump Seal
Clockwise Impeller Rotation
Horizontal Pump Mount
EDUR S Series Materials
Steel Pump Components
Cast Iron Pump Body
EDUR S Series Industries
Water Supply and Treatment Pumping
Process Technology Pumping
Irrigation Pumping Applications
Plant Engineering Pumping
EDUR S Series Applications
Liquid-Gas Pumping Applications
Wastewater Plant Pumping Applications
Brackish Water Pumping Applications
Clear Liquids Pumping
Slightly Polluted Liquids Pumping

Learn about our Iconology here.