The EDUR SUB Self-Priming Centrifugal Pumps are all-purpose single stage close-coupled heavy-duty centrifugal pumps for clear or slightly polluted liquids with a wide range of industrial pumping applications. The EDUR SUB Pumps compact design allows it to fit easily into the footprint of a more traditional standard Self-Priming Centrifugal pump.
The SUB Series unique modular design allows for a variety of configurations depending upon your unique pumping application. The SUB Series can be utilized in the irrigation industry with its selfprimng design which allows for pumping of liquid with entrained gases in the liquids without failure. The SUB Series differs from the S series or the E series in its ability to handle larger capacities of flow as well as being very flexible for reconfiguration.
EDUR's SUB series offers a low-velocity of flow with an optimised impeller approach which allows low internal friction losses and optimised head per stage.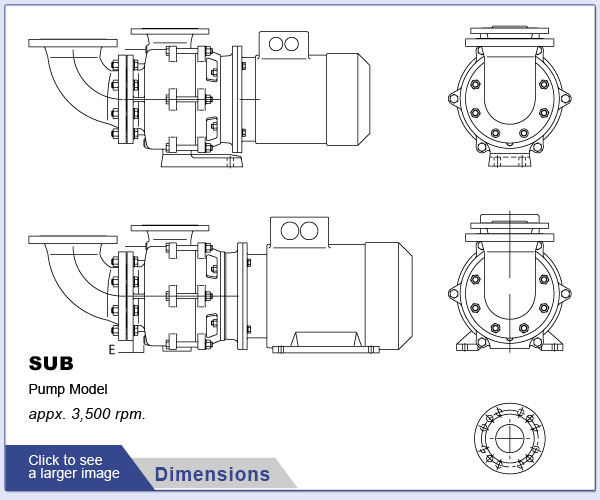 The SUB series is designed with a standard open impeller design without axial thrust or in a balanced closed-impeller design. The EDUR SUB Series operates at pressures up to 145 PSI at an operational temperature range of -40°F to +194°F with a Viscosity of 115 centistokes with a series maximum flow rate of 704 GPM.
The EDUR SUB Series is made of both Cast Iron and Stainless Steel for superior chemical resistance and is available for immediate delivery from Shanley Pump and Equipment, Inc. If you have any questions about the EDUR SUB Series Self-Priming Centrifugal Process Pump please feel free to contact Shanley Pump and Equipment, Inc. today for a quote or application information.
EDUR Pump Series quick links
EDUR SUB Selfpriming Centrifugal Circulation Pumps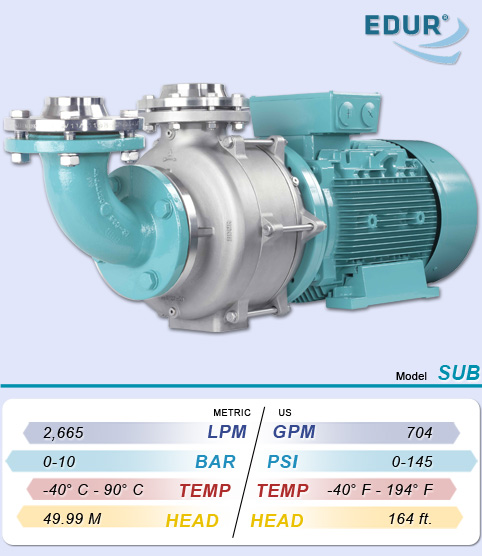 EDUR SUB Series Pump Type
Centrifugal Pump
Single Stage Pump
Self-Priming Pump
EDUR SUB Series Materials
316 Stainless Steel
Cast Iron
EDUR SUB Series Industries
Irrigation Industry Pumping
Water Supply and Treatment Pumping
Slightly Polluted Liquids Pumping
Process Technology Pumping
EDUR SUB Series Applications
Solids Content Pumping Applications
Liquid-Gas Pumping Applications
Brackish Water Pumping Applications

Learn about our Iconology here.