We at Shanley Pump supply specialty pumps to solve the most difficult pumping applications that pump users face today. We offer two types of the most popular styles of pumps for your needs, positive displacement screw pumps and centrifugal pumps. Each has its own features and benefits and we use our factory training knowledge and experience to apply those pumps best suited to each pumping application.
Every pump installation has its own unique pumping characteristics. Our factory trained application engineers are available 24 hours a day to help you in whatever pumping situation that may arise.
We carry a wide selection of specialty positive displacement and specialty centrifuge pumps for tough pumping applications. Our pump lines include: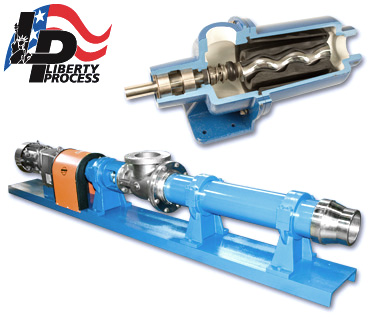 We stock several product lines of progressive cavity pumps. We offer Metering Pumps, from .02 GPM up to large industrial 2000 GPM pumps from our inventory in both cast iron and stainless steel materials.
We stock many spare parts for our progressive cavity pumps such as Rotors, Stators and full pump assemblies as well as aftermarket and OEM products. Progressive Cavity pumps were invented in the early 1900's and are used to pump thick and abrasive fluids. They are also ideal pumps for when an application requires a measured flow, typically called metering pumps in the industry. In addition there are many special applications where progressive cavity pumps are used due to their unique pumping design.
The most common application for progressive cavity pumps is pumping thickened sludge in the processing of wastewater in sewage treatment plants and in industrial wastewater applications. Some additional progressive cavity pump applications are drilling mud for drilling oil wells and refinery applications. Ground water remediation where the pumps are used to feed filtration systems to clean ground water, pumps are used to pump liquid explosives in mining applications, pumping thick food products like cookie dough and many, many more.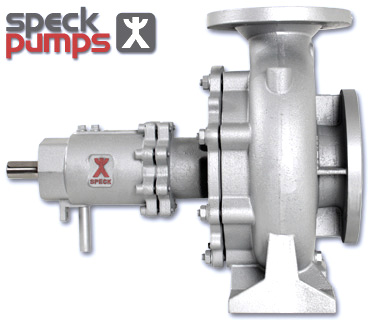 We stock a line of Centrifugal Thermal Hot Oil transfer pumps from Speck Pumps. Speck® Thermal Oil Pumps offer superior transport and recirculation of organic heat transfer oils on mineral and/or synthetic basis.
In Heat-Transfer Applications around the world, the robust design and construction of Speck brand pumps is due to a rigorous quality control program where ISO:9001 requirements are met throughout the entire manufacturing process and the pumps are fully tested.
Speck Pump is recognized as an industry leader in special centrifugal pumps including hot-oil transfer pumping with flow rates up to 880 GPM. Mechanical and Magnetic seal options are available which are used extensively throughout many of the following industries:
Tempering Devices in Plastics and Die Casting
Baking Ovens and large industrial frying units
Tar and Asphalt Plants
Heating in the leather and rubber industry
Paint manufacturing
Press heating of papers and pulps and wood
Laundries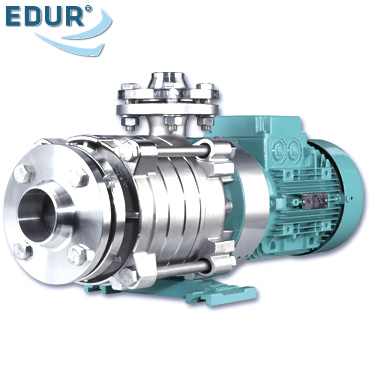 We stock a complete line of EDUR specialty centrifugal pumps. EDUR pumps are designed especially for use in applications where liquids and gases are present and mixed. This pumping application is very challenging if not impossible with standard centrifugal pumps and they would fail due to cavitation, destroying the pumps.
The EDUR pump is specifically designed with a unique pump impeller and casing designs that enable it to pump liquid/gas mixtures without cavitation. We keep the pumps in our inventory complete with standard NEMA TEFC Motors, completely tested and ready to ship.
We stock EDUR pumps in sizes from 10 gpm up to 220 gpm. Pump materials available are cast iron, 316 stainless steel and super duplex stainless steel. Dissolved Air Flotation is the most common application where the EDUR pump is used to provide dissolved air to a flotation tank to float and remove wastes solids, fats and oils. The EDUR DAF pump is very innovative in this application. The previous design standard was to use a standard pump and inject the required air using an air compressor, feeding a saturation tank via an air control panel. The tank was fed with water from a standard centrifugal pump.
With the EDUR pump, no compressed air or saturation tank is needed. In addition an overall power savings of 40% is achieved due to not requiring a compressor. Shanley Pump and EDUR introduced this innovation to the North American market in 1996 and the results have been astounding.
There are now thousands of EDUR pumps in this application all over North America. The pump is also used in a variety of industries like Municipal and industrial wastewater applications, Dairies, Rendering plants, Slaughter houses, Mining and are now used extensively in the petroleum industry.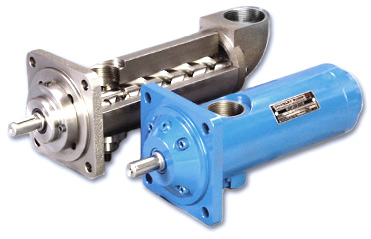 We stock several series of three rotor screw pumps at Shanley Pump and Equipment, Inc. We stock *Allweiler® brand pumps and spare parts and we also stock SEIM brand rotored screw pumps and spare parts. These High-Efficiency pumps are used to pump lubricating fluids like lube oil, fuel oil, hydraulic oil and cutting oil.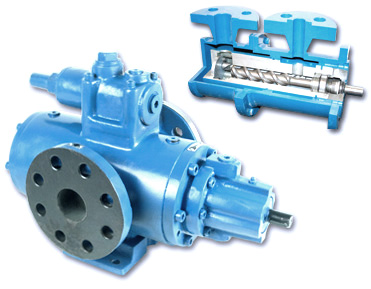 2 rotor screw pumps are a heavy-duty pump that is ideal for larger flow applications like crude oil loading and unloading for shipping and tank farm applications.
The pump is ideal because it can pump a variety of fluids it can lift from below; it can run dry and is ideal for large flow like rail cars, ships and tank farms. These pumps are custom made for the application and provide the user with a reliable long service life pump. The pump is available in cast iron carbon steel and stainless steel These pumps are custom made, please send us your inquiries for an offer..
*Allweiler® NTT Series Hot Oil Pumps
We stock a complete line of *Allweiler® NTT hot oil pumps for sale. These are popular horizontal centrifugal thermal fluid pumps that are capable of pumping thermal oil at temperatures up to 660° degrees Fahrenheit (350°C) and require no additional cooling. We stock these pumps with nodular (ductile) cast iron casings.
The pumps have 150 pound raised face flanges and are available for immediate delivery. For applications where you require 300# Flange ratings, please send us your inquiry.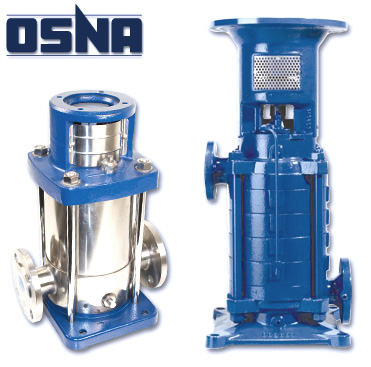 We stock OSNA high-pressure boiler feed pumps at our facility. This heavy-duty pump series is rated from 10 to 1,000 gpm at up to 1,000 feet of head. OSNA Centrifugal Pumps make an ideal solution for your boiler-feed pumping needs.
In addition to the series we stock, OSNA also has other series of pumps available for pumping applications up to 4800 gpm and at discharge heads up to 2100 feet. The pumps are available in cast iron, bronze and stainless steel.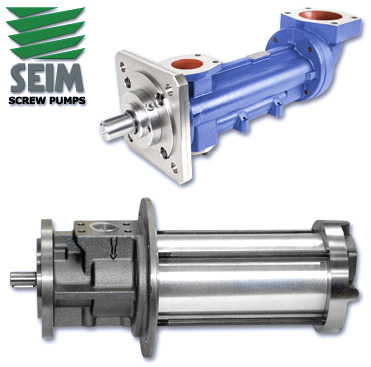 We stock these pumps for lube oil, fuel oil and hydraulic oil. SEIM offers an innovative three rotor pump which is ideal for OEM lubrication applications of heavy equipment like compressors, gear boxes and turbines.
SEIM Screw Pumps are known for their quality. We also carry SEIM Screw Flowmeters for flow measurement of viscous fluids and are most commonly used to measure fuel volume such as Diesel.
We offer Engineered Hilge Pumps for Brewery and Sanitary Pumping applications upon request. please contact us for an offer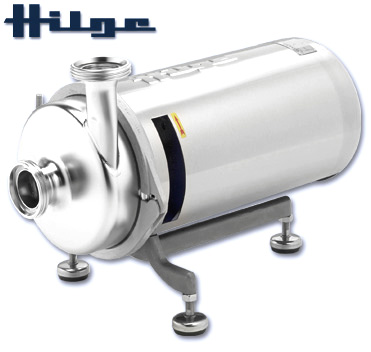 Hilge is a brand of high end sanitary food-grade centrifugal pumps. We stock Hilge pumps and spare parts. The pumps are made from rolled steel instead of cast parts so the surface finish is superior for sanitary applications.
The pumps have been manufactured in Mainz Germany since 1867 and all German breweries use Hilge pumps. We specialize in applying Hilge Pumps to applications in Breweries, Microbreweries and Nana Breweries. We offer Portable Brewery Systems using Hilge Brewery pumps from our stock complete with carts with variable frequency drive speed controllers. The Units are completely wired and ready to be used upon unpacking. Just plug into a standard 110V, 1-Phase outlet. Custom electrical options are available.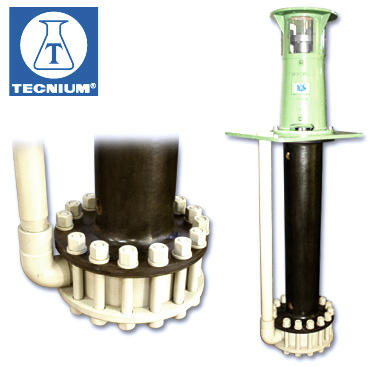 Tecnium engineered plastic pumps are some of the most reliable and high efficiency centrifugal pumps and pumping systems available for the pumping of extremely corrosive chemicals and chemical applications. The pump parts are machined, NOT MOLDED adding strength and reliablitly for abbrasive fluids and pumping mediums.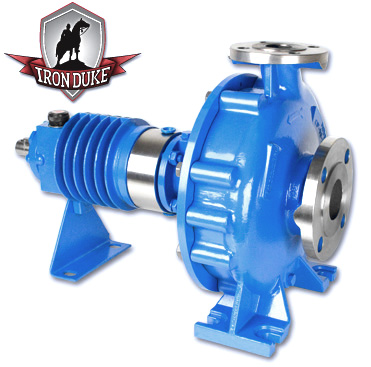 Iron Duke Pumps are a new pump line that Shanley Pump and Equipment is proud to represent. Iron Duke Pumps are available in both Thermal Fluid and corrosive resistant pumping ranges.
If you have any questions about Iron Duke Pumps, please feel free to call us or send us an email with your pumping requirements. One of our factory trained engineers will contact you shortly afterwards.We look forward to hearing from you.