International Pump Supply
Shanley Pump and Equipment, Inc. is an International Pump distributor of centrifugal pumps for difficult pumping applications. We offer specialty pumps and industry-leading service to the pump market worldwide through pour network of distributors or by working with our suppliers to get you in contact with your local distribution facility to get you the pump you need when you need it.
We ship and service our pump products for many pumping applications for a wide variety of industries all over the world. Shanley Pump is centrally located near Chicago, Illinois, USA.
We are located very close to Chicago's O'Hare International airport, one of the busiest airports in the world and we ship many emergency pump orders via airfreight to serve our customers needs. In addition, the large industrial and transportation infrastructure of greater Chicago provides us with key business tools to support our pump customers with quick delivery and services.
Selling Pumps Globally
If you are located outside of our country and need a pump, don't hesitate to contact us with your pumping requirements. We'll be glad to help you with the service you deserve. Please use our Quote form for international sales to post your request to us.
If you have any questions about our services, please feel free to call us or send us an email! We look forward to hearing from you.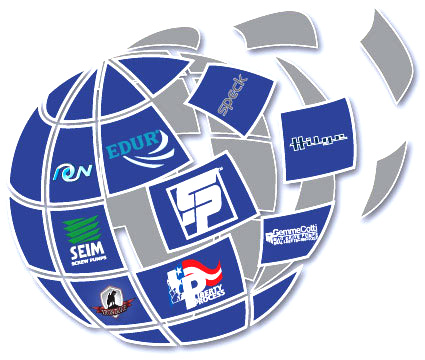 Countries we have sold to this year so far!
Bomba de suministro internacional
Shanley bomba y el equipo, Inc. es un distribuidor de la bomba Internacional de bombas centrífugas para difíciles aplicaciones de bombeo. Ofrecemos bombas especializadas y líder en la industria de servicios para el mercado de bombas en todo el mundo a través de la red de vertido de los distribuidores o por trabajar con nuestros proveedores para ponerse en contacto con su centro de distribución local para conseguir que la bomba que necesita cuando lo necesita.
Enviamos nuestros productos y darle servicio a la bomba para muchas aplicaciones de bombeo de una amplia variedad de industrias de todo el mundo. Bomba de Shanley está situado cerca de Chicago, Illinois, EE.UU.
Estamos ubicados muy cerca del aeropuerto O'Hare de Chicago International, uno de los aeropuertos más ocupados del mundo y enviamos muchos órdenes de la bomba de emergencia a través de la carga aérea para servir a las necesidades de nuestros clientes. Además, las grandes empresas industriales y de infraestructura de transporte del Área de Chicago nos provee de herramientas de negocio clave para apoyar a nuestros clientes de la bomba con la entrega rápida y los servicios.
Si usted se encuentra fuera de nuestro país y la necesidad de una bomba, no dude en contactar con nosotros con sus requisitos de bombeo. Estaremos encantados de atenderle con el servicio que merecen. Por favor, use nuestro formulario de cotización para la venta internacional de enviar su solicitud a nosotros.
Международный Насос подачи
Шэнли насосы и оборудование, Inc является международным дистрибьютором насосов центробежных насосов для тяжелых насосов. Мы предлагаем специальные насосы и отрасли услуг насосов на мировом рынке через застывания сеть дистрибьюторов или работать с нашими поставщиками, чтобы вы в контакте с местными объекта распределения, чтобы вы насос вам нужно, когда это необходимо.
Мы отправляем и обслуживанию нашей продукции насос для многих насосных приложений для широкого спектра отраслей промышленности во всем мире. Шэнли насоса расположен в центре города недалеко от Чикаго, штат Иллинойс, США.
Мы находимся очень близко к Чикаго О'Хара международный аэропорт, один из самых загруженных аэропортов в мире, и мы отправляем на много порядков насос чрезвычайной помощи авиаперевозок, чтобы обслуживать наших заказчиков. Кроме того, крупный промышленный и транспортной инфраструктуры Большого Чикаго, дает нам ключ бизнес-инструментов для поддержки наших клиентов насос с быстрой доставки и услуг. Если вы находитесь за пределами нашей страны и нуждаются в насос, не стесняйтесь обращаться к нам с насосной требованиям.
Мы будем рады помочь вам с услугой вы заслуживаете. Пожалуйста, используйте наш Цитата форму для международных продаж отправить запрос нам.
Shanley 펌프 및 장비 주식 회사는 어려운 펌핑 애플 리케이션을위한 원심 펌프의 국제 펌프 유통 업체입니다. 우리는 유통 업체의 뭔가 뿌린 네트워크를 통해 또는 당신에게 당신이 그것을 필요로 할 때 필요한 펌프를 얻으려면 현지 유통 시설과 접촉에서 당신을 위해 공급 업체와 협력하여 전세계 전문 펌프와 펌프 시장에 업계 최고의 서비스를 제공합니다.
우리는 전 세계 산업의 다양한 많은 펌핑 어플 리케이션을위한 우리의 펌프 제품을 배송하고 서비스를 제공합니다. Shanley 펌프는 중앙 시카고, 미국 일리노 이주 근처에 위치하고 있습니다.
우리는 시카고 오해어 국제 공항, 세계에서 가장 바쁜 공항 중 하나와 아주 가까이 위치하고 있으며 저희는 고객의 요구에 부응하기 위해 airfreight 통해 많은 비상 펌프 주문을 배송하고 있습니다. 또한, 대규모 산업 및 높은 시카고의 교통 인프라는 신속 배달과 서비스의 펌프 고객을 지원하기 위해 주요 사업 도구로 우리를 제공합니다.