Shanley Pump and Equipment carries the Justice Series of Open-Hopper Progressive Cavity Pumps from Liberty Process Equipment for immediate shipment from our facility. The Justice Series represents an ideal open throat pumping solution for viscous solutions and those with high solids contents such as sludge's and slurries, wine must, spent grains, food waste, polymers, pulp and paper and other highly-viscous low-flow able pumping mediums that other pumps would have difficulty pumping.
The Justice Series offers a heavy-duty auger with hopper mated to a rotor and stator for the most difficult progressive cavity pumping applications of large items. Flow rates from 0-293 GPM at pressures from 0-225 PSI are capable with the Justice Series.
The auger feed design forces the liquid and slurry mix toward the rotor and stator so it can fill the rotor cavities and then be pumped under normal operating conditions. The heavy-duty hopper has heavily slanted sides so the liquid/slurry easily pours towards the auger for continual pumping. Custom hopper and auger designs are available for installations where you need bigger hoppers or for more difficult pumping applications, etc.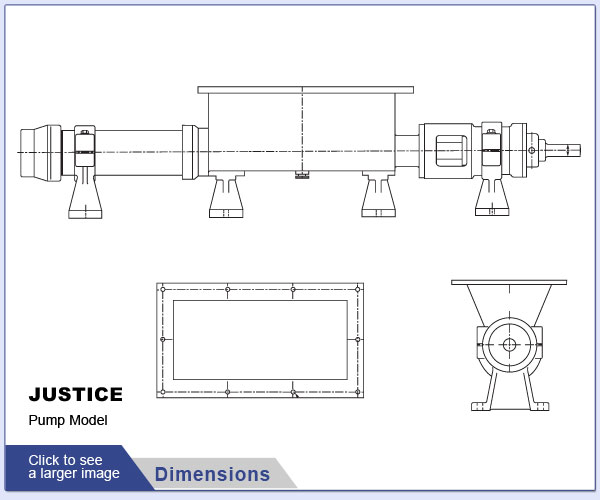 The modular design of the Justice Series Open Hopper Progressive Cavity Pump is a hardened pinned-joint drive assembly with wetted parts available in steel or 316 stainless steel and internal wetted components in either stainless steel or hardened tool steel with hard chrome plating for long-life and durability in abrasive pumping applications.
---
LIBERTY Pump Series quick links
Progressive Cavity Hopper Pump Justice Series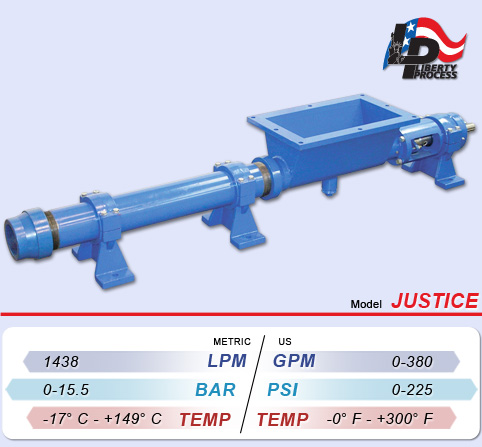 LIBERTY Justice Series Pump Type
Progressive Cavity Hopper Pump
Packing as seal
Clockwise Rotation
Pump with Auger
LIBERTY Justice Series Materials
Cast Iron
Steel
LIBERTY Justice Series Industries
Brewing Industry Pumping
Paper Industry Pumping
Beverage Industry Pumping
Sanitary Application Pumping
LIBERTY Justice Series Applications
Spent Grains / Wine Must / Mash Tun Removal Pump
Solids Content Pumping Applications
Pig Farming Pumping Applications
Poultry Farming Pumping Applications

Learn about our Iconology here.