Shanley Pump and Equipment carries the Justice Series of Open-Hopper Progressive Cavity Pumps from Liberty Process Equipment for immediate shipment from our facility. The Justice Series represents an ideal open throat hopper-style pumping solution for the brewing industry for the removal of spent grains, mash tun and other brewery ingredients at the end of a brewing cycle.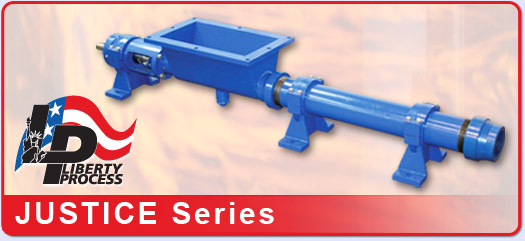 The Justice Series of Progressive Cavity Brewery Hopper Pumps is the the best low-cost heavy-duty progressive cavity pump on the market today and is made in sizes that will work with the smallest Microbrewery up to full scale commercial brewing operations.
The Justice Series offers a heavy-duty progressive cavity pump auger with hopper mated to a rotor and stator for the most difficult progressive cavity pumping applications of large items. Flow rates from 0-293 GPM at pressures from 0-225 PSI are capable with the Justice Series.
The auger feed design forces the liquid and slurry mix toward the rotor and stator so it can fill the rotor cavities and then be pumped under normal operating conditions. The heavy-duty hopper has heavily slanted sides so the liquid/slurry easily pours towards the auger for continual pumping. Custom hopper and auger designs are available for installations where you need bigger hoppers or for more difficult pumping applications, etc.
The modular design of the Justice Series Open Hopper Progressive Cavity Pump is a hardened pinned-joint drive assembly with wetted parts available in steel or 316 stainless steel and internal wetted components in either stainless steel or hardened tool steel with hard chrome plating for long-life and durability in abrasive pumping applications.
Progressive Cavity Hopper Pumps
Rotors and Stators for the Justice Series are available in 1, 2, and 3 stages representing 75, 150, and 225 PSI discharge pressures with stators available in the most popular materials such as Buna Nitrile, Viton, EPDM and Natural Rubber. The standard seal design is a set of gland packing with a lantern ring and flush connections. Mechanical Seal options are readily available.
Contact a Shanley Pump and Equipment engineer today with your application information and we'll be glad to see if the Justice Series is the PC Pumping solution you're looking for.
If you have any questions about our services, please feel free to call us or send us an email! We look forward to hearing from you.
---
LIBERTY Justice Series Industries
Brewing Industry Pumping
Paper Industry Pumping
Beverage Industry Pumping
Sanitary Application Pumping
LIBERTY Justice Series Applications
Spent Grains / Wine Must / Mash Tun Removal Pump
Solids Content Pumping Applications
Pig Farming Pumping Applications
Poultry Farming Pumping Applications
---

Learn about our Iconology here.
*Shanley Pump and Equipment, Inc. is not affiliated with nor a representative of Allweiler® or the Colfax® Corporation nor any of their affiliates. Any references made are for informational purposes only.