The Liberty Series of Progressive Cavity Pumps and Pump Parts from Liberty process Equipment, Inc. is our standard aftermarket progressive cavity pump series that works with and are direct drop-in aftermarket replacements for the Moyno L-Frame ®, Continental CL Frame®, and Tarby Century 3® series of pumps.
The Liberty Series is offered in 9 different sizes with flows ranging from a fraction of a gallon up to 250 GPM. All pumps are available in 1, 2,3, and 6 stages for discharge pressures of 75, 150, 225, and 450 PSI.
The Liberty Series of Progressive Cavity Pumps are a great choice for a variety of pump applications such as drilling mud, ground water remediation applications, sludge pumping, polymer feed and other applications where solids are present in the pumping medium. The Liberty Series of pump is an optimal choice for industries needing difficult pumping applications.
The Liberty LL Series also represents the best value in aftermarket progressive cavity pump parts for your existing Moyno®, Tarby®, Continental®, Roper®, and Seepex® brand Progressive Cavity Pumps. The Liberty Series of progressive cavity pump parts are direct drop in replacements that can save you both time and money over your current existing suppliers. Parts are kept in stock for Immediate shipment.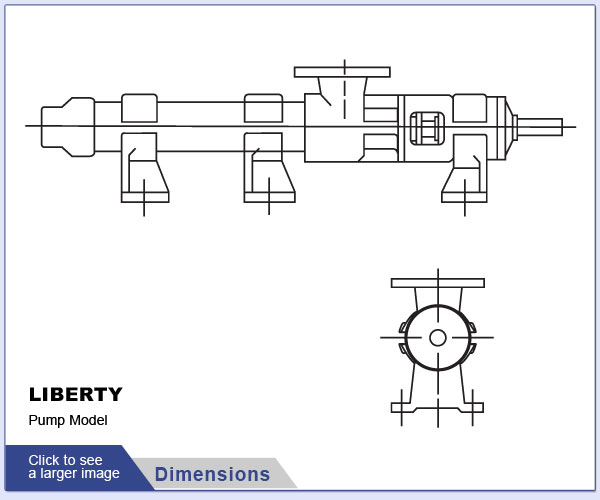 The Liberty Series progressive cavity pumps have standard steel ANSI flange suction connections and NPT threaded discharge connections. Optional ANSI flanges are also available on the discharge connection. We can ship the same day you place your order.
We can also offer this pump with many different drive package options, shaft seal options and all the accessories needed for your pumping applications. Please contact one of our application engineers today for a complete technical offer.
---
LIBERTY Pump Series quick links
LL-Frame Progressive Cavity Pumps and Parts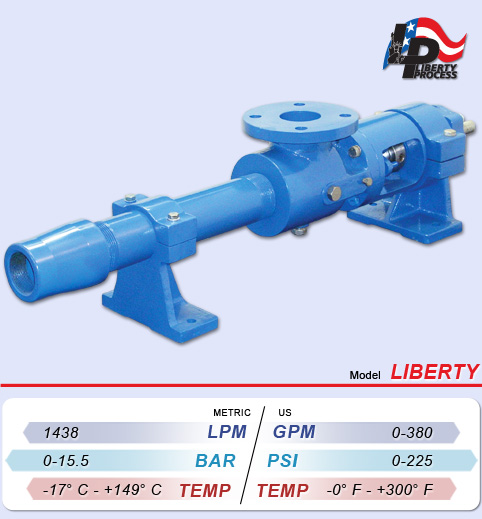 Liberty Series Pump Type
Progressive Cavity Pump
Packing Seal (Standard)
Mechanical Seal (Optional)
Bi-Directional Pumping
Liberty Series Materials
Cast Iron Progressive Cavity Pump
Steel Progressive Cavity Pump Parts
Liberty Series Industries
Paper Industry Pumping
Plant Engineering Pumping
General Purpose Pumping
Chemical Industry Pumping
Liberty Series Applications
Industrial Waste Streaming Pumping Applications
Pig Farming Applications
Solids Content Pumping Applications
Deep-Hole Drilling Applications
Wastewater Pumping Applications

Learn about our Iconology here.