Osna non-self priming high pressure centrifugal pumps from Europe are ideal for the pumping of clear and slightly contaminated liquids such as Fresh water, drinking water, boiler feed water, process water, sea and brackish water, hot water, condensate, lye's etc. at high pressures.
OSNA Pumps are an excellent choice for use as boiler feed pumps in a boiler feed system as well as being good with cold and hot water circulation as well as being useful in the shipbuilding, mining, power generation and irrigation industries.
Pumping of Clear or Slightly Contaminated Liquids
Process Water for Cooling
Chemical Manufacturing
Boiler Feed
Industrial pumping Applications
Lye's and other caustic chemical pumping
Hot/Cold Water Pumping
Irrigation Systems Pumping
OSNA Pump Series quick links
OSNA high pressure multistage centrifugal pumps offer high efficiency with low noise operation. Their modular construction allows for easy part replacement as well as optimal adjustments to be performed easily as well as coming in both standard gland-packing or mechanical seals.
Their low maintenance and ease of serviceability combined with rugged construction and quality materials such as steel, stainless steel, and high durability cast Iron makes these pumps hard to beat for their superior performance.
High Pressure OSNA Multistage Centrifugal Pumps
OSNA non-self priming centrifugal pumps also have another series of pumps in both horizontal and vertical mounting capabilities for both regular service and Heavy-Duty usage available for pressurized pumping applications from 10 up to 4800 gpm and at discharge heads up to 2100 feet at temperatures up to 284°F.
OSNA Pump Lines
OSNA NMH Series
OSNA NMV Series
OSNA CVP Series
OSNA VKI Series
The pumps are available in cast iron, bronze and stainless steel as well as Duplex and Super Duplex.
Contact a Shanley Pump and Equipment, Inc. representative today for more information about OSNA High pressure Centrifugal Pumps and how they can be an ideal addition to your facilities pumping requirements.
If you have any questions about our services, please feel free to call us or send us an email! We look forward to hearing from you.
OSNA Pump Parts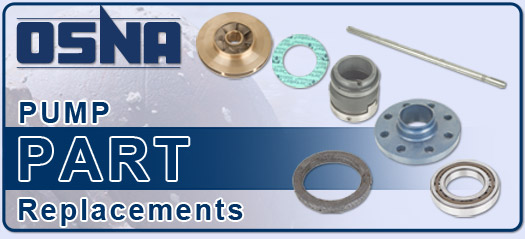 We use genuine OSNA parts for all OSNA Pump repairs.
Shanley Pump and Equipment is a North American representative for OSNA pumps and carries a large inventory of ready to ship pumps and pump parts. If you require replacement OSNA Pump Parts please feel free to contact us at your convenience.
If you are looking to repair your current pumping system or even rebuild your current one and are considering a new pump, contact us today and ask for one of our factory trained engineers at 847-439-9200.