Are you looking for a difficult pump part that you can't seem to locate anywhere? Do you need it yesterday? If so, give us a call and ask to use our pump parts finding service! Our Staff of factory trained engineers is waiting today to help you get the parts you need when you need them.
We carry pump parts for these following brands in house at our 5,000 sq. ft. facility located outside of Chicago Il.
Allweiler® Pump Parts*
Hilge Pump Parts
Seim Pump Parts
Osna Pump Parts
Edur Pump Parts
Liberty Process Equipment Pump Parts
Tecnium Pump Parts
Three Rotor Screw Pump Parts
Boiler Pump Parts
Thermal Oil Pump Parts
Additionally, our representatives located throughout the USA carry additional stock that we don't covering a wide range of manufacturers and models. From pump casings and seals to entirely new rotors and genuine manufacturer parts.
Rotors, Stators, Impellers and More...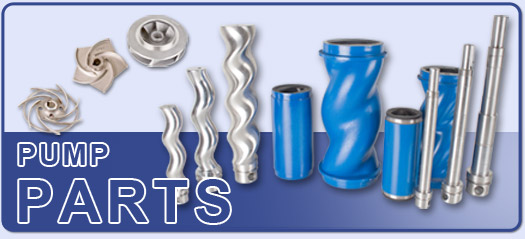 Perhaps the pump you have needs more than just parts, if so, contact us today for our line of brand new or refurbished pumps and motors all which come with a full warranty.
We pride ourselves on our commitment to our customers, from entire custom designed pumping systems to a single seal, you'll receive the same world class treatment that has made us a leader in the specialty positive displacement and specialty centrifugal pumps market for over 25 years.
Pump Parts
All of our work is covered by a warranty which includes work on the following:
New Pump Stators
New Pump Screws
New Pump Seals
New Pump Motors
Remanufactured Pumps
New Pump Electronics
New Pump Centrifuges
New Pump Casing
Shanley offers many services in the pumping community including:
Commercial pump removal and installation
Commercial pump repair and parts center's throughout the USA
Professional pump motor repair services
Professional pump part finding services
Pump alignment services
On-Site Pump Repair and Installation Services
If you have any questions about our services, please feel free to call us or send us an email! We look forward to hearing from you.