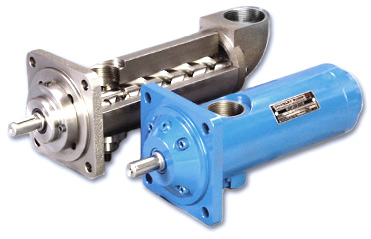 Shanley Pump and Equipment stocks and screw pumps for viscous pumping applications. Screw pumps are most commonly used for lubrication such as oils, hydraulic fluids in machinery, fuel oil transfer between fuel bunkers and a ship and in hydraulic elevators.
A Screw Pump is a highly efficient way to move a very viscous fluid at high pressures and flow rates easily and accurately. Another large advantage to screw pumps is noise as screw pumps are notoriously quiet in operation with their low pulsation.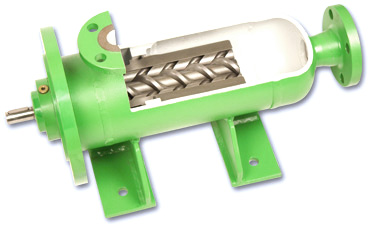 Shanley Pump and Equipment carries several brands of Screw Pumps available for immediate shipment. We carry SEIM screw pumps and Shanley Screw Pumps.
SEIM screw pumps are volumetric self-priming pumps suited to handle oils and fluids with a minimum lubricating property. The pumps design makes them intrinsically reliable and efficient in their applications.
Contact a Shanley Pump and Equipment representative today with your screw-pump inquiries. 847-439-9200
Three-Rotor Screw Pumps
Shanley Pump and Equipment stocks and supplies many 3-Rotor screw pumps for lube oil, fuel oils, and hydraulic oil applications. 3-Rotor Screw pumps are most commonly used for lubrication of compressors, engines and gearboxes, as well as hydraulic applications like elevators.

Additionally, 3-Rotor Screw Pumps work well with fuel transfer on ships, in burner feed applications and for high-pressure coolant feeding in machine tool applications.
Using a 3-Rotor Screw pump is a highly-efficient way to move lubricating viscouls fluids at high pressures. Another advantage to using a 3-Rotor Screw Pump is their very low noise and pulsation when operating.
The Shanley 3LS Series of Three-Screw Pumps are designed for handling lubricating fluids. These fluids are found most commonly in applications where forced oil lubrication is required for rotating machinery.
As the pump turns, these three screws intermesh and run inside of the pump housing. This results in closed cavities which transfer the liquid from the suction to the discharge side of the pump as the pump rotates. Due to the close tolerances of the pump design, a precise flow per pump revolution is achieved.
If you have any questions about our services, please feel free to call us or send us an email! We look forward to hearing from you.