SEIM Pumps offers innovations in three rotor and screw pumps. The three rotor pump is ideal for lubrication pumping applications of heavy equipment like gas compressors, turbines and large gearboxes and other lubrication and heavy hydraulic applications.
Shanley Pump and Equipment, Inc. stocks a full line of SEIM Screw Pumps and SEIM Screw Flow meters for your specific pumping application needs.
We can supply replacement SEIM Pump Screws in a variety of materials from steel, stainless steel and exotic man-made materials for difficult pumping applications such as viscous Fluids or Hydraulic Fluid Pumping.
We supply SEIM pump screws for pumps from stock for immediate delivery.
Contact Shanley Pump and Equipment, Inc. today at 847.439.9200 or simply fill out your pump information in our contact form. A representative will contact you shortly.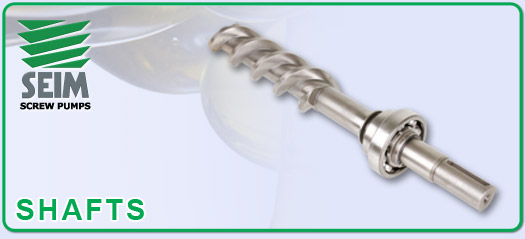 SEIM PART List
SEIM PCX Series Replacement Drive and Idler Screws
SEIM PXF Series Replacement Drive and Idler Screws
SEIM PX Series Replacement Drive and Idler Screws
SEIM PA Series Replacement Drive and Idler Screws
SEIM PO Series Replacement Drive and Idler Screws
SEIM POF Series Replacement Drive and Idler Screws
SEIM PZ Series Replacement Drive and Idler Screws
SEIM PHS Series Replacement Drive and Idler Screws
SEIM - Pump Shafts
SEIM Steel Pump Screws
SEIM Steel Drive and Idler Screws
SEIM Stainless Steel Pump Screws
SEIM Hydraulic Fluid Pump Screws
SEIM Screw Pump Drive Screws
SEIM Screw Pump Idler Screws
OEM SEIM Pump Impellers
*Cookies must be enabbled to submit this form