All Speck Centrifugal pumps require gaskets for sealing. Shanley Pump and Equipment, Inc. carries a full line of replacement Speck centrifugal pump gaskets for immediate shipment to your facility.
We carry Speck Pump gaskets in our Chicago, Il. facility. Pump gaskets come in a variety of standard and exotic materials like rubber, EPDM, Teflon, coated thermal paper all depending upon your application requirements.
If you are unfamiliar with your specific gasket type, give Shanley Pump a call and one of our sales engineers will be glad to assist you in the selection of the optimal replacement OEM or aftermarket pump gasket for performance in your Speck centrifugal pump.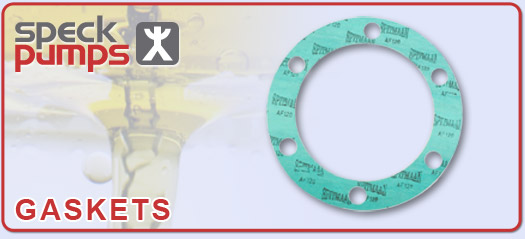 New OEM Speck Pump Gaskets
Speck Teflon Pump Gaskets
Speck Paper Pump Gaskets
Speck EPDM Pump Gaskets
Speck Thermal Paper Pump Gaskets
Speck Rubber Pump Gaskets
Speck Coated Paper Pump Gaskets
Speck Pump Gaskets
SPECK TOE-MI Series Pump Gaskets
SPECK TOE-MA Series Pump Gaskets
SPECK TOE-MN Series Pump Gaskets
SPECK TOE-GI Series Pump Gaskets
SPECK TOE-GA Series Pump Gaskets
SPECK TOE-GN Series Pump Gaskets
Required Information: Please tell us about your Speck Pump Gaskets you require.
*Cookies must be enabbled to submit this form